Are you looking for the 2022 ULEZ map? Recently expanded, London's ULTRA LOW EMISSION ZONE (ULEZ) has undergone many changes since it was first rolled out in April 2019.
With road traffic causing the most pollution in Greater London, ULEZ is designed to improve air quality by reducing emissions. As a result, the ULEZ scheme is increasingly under review and has much tighter standards than before.
In time the ULEZ boundary is set to expand even further across Greater London. The North and South Circular Roads now form part of the ULEZ larger zone. 
ULEZ Compliant Cars
You could save thousands by upgrading to a ULEZ compliant car
Unless your vehicle meets the ULEZ emissions standards, each driver must pay the ULEZ daily charge in addition to the current weekday Congestion Charge.
ULEZ 2021 Map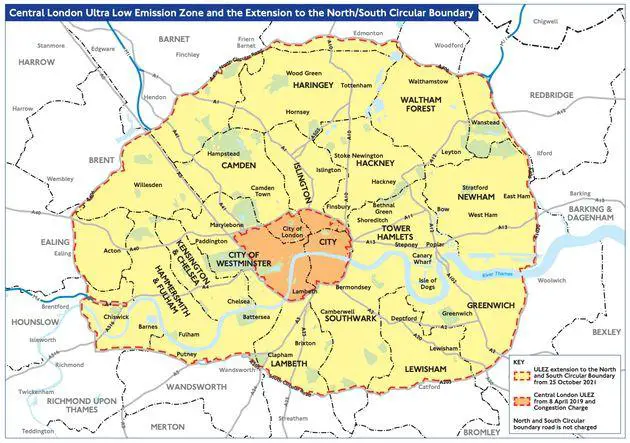 Here is our updated map to show you where the ULEZ daily charges apply.
As you can see from the map, the Ultra Low Emission Zone boundary lies between the A406 North Circular Road down to the West, the A1020 in the East and the A205 South Circular Road.
Outside of these areas, regardless of your type of vehicle, you will not be subject to the daily ULEZ charge.
Please bear in mind, the Ultra Low Emissions Zone daily charge operates 24hrs a day, seven days a week, all year round except for Christmas Day. The ULEZ daily charges are midnight to midnight. So make sure you are aware of your daily fees before making your journey.
Vehicles affected by the daily ULEZ charge include petrol and diesel cars, vans, minibuses, motorcycles, and mopeds, as well as lorries, coaches and other large vehicles.
Owners of non-UK registered vehicles must also pay the ULEZ charge if their vehicle does not meet the ULEZ emissions standards.
With daily charges from £12.50 for most vehicles, charges differ depending on your type of vehicle within these zones. Please check our site for further information regarding your specific vehicle type.
Are you a London resident?
Up until the 24th October 2021, all London residents who are registered for the resident's Congestion Charge discount are welcome to a 100% ULEZ discount.
Aimed at helping all London residents, the scheme was created to give time to upgrade their vehicles to ULEZ approved standards ahead of the proposed cut off date.
After this date, the daily ULEZ charge applies to you regardless of whether you are a London resident or not. Make sure you are aware of the increase in fees payable before you make any journey in your vehicle.
ULEZ Penalties
Driving within any of the ULEZ created zones without paying your daily charge or meeting the required emissions standards, you may be issued a Penalty Charge Notice (PCN).
To avoid a PCN, make sure you have notified ULEZ of the following:
Your vehicle's registration information
All daily charges have been made before midnight the next working day after the first day of travel
Provided the correct number plate and exact date of travel when paying each daily charge
Allow up to ten working days if paying your ULEZ fee via post before travel
Your vehicle already meets ULEZ requirements, or you are exempt due to discounts
Remember, ULEZ charging hours are midnight to midnight daily. Any vehicle, whether UK or non-UK registered is liable to a PCN if not following the ULEZ requirements.